Community Profile

This journal should be viewed with discretion.
Free Account
Created on 2011-04-06 18:34:41 (#726407), last updated 2011-08-16 (318 weeks ago)
2 comments received
4 Journal Entries, 0 Tags, 0 Memories, 4 Icons

About
| | |
| --- | --- |
| Name: | rococo_fetish |
| | |
| | |
| Membership: | Moderated |
| Posting Access: | All Members |
| Community description: | Modern Addicts of Rococo Style |

Mini Bio
****4/7/2011-
Welcome to the new home of

rococo_fetish
from Live Journal. If you are a newcomer here, please take time to read over our community guidelines and rules, and get posting!
I'll be copying some of my older posts from the LJ group on here in the coming days, and I welcome any of you that had posts there to copy them here as well.****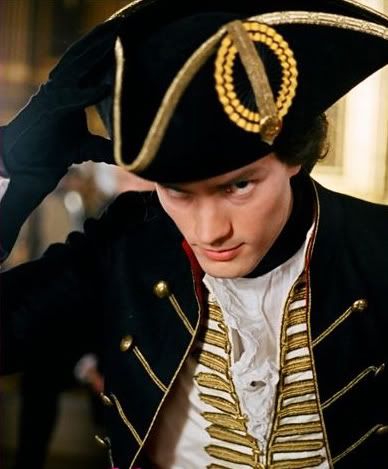 Welcome to my community dedicated to the 18th century fetishist.
This is a place for anything 18th century; fashion, art, philosophy, etc. A modern "salon" if you will.

rococo_fetish
a place for those of us who enjoy the beauty of garments and art from the age of enlightenment, from not only an aesthetic view, but with total adoration and a want to recreate them for oneself.
I hope that, with the creation of this community, we can revel in the rococo period and answer many other questions surrounding the subject of 'How-To' when creating your own projects.
I don't want this place to ever tolerate flame wars or ill behavior, so please be respectful of the theme, other group members, and the rules.
~You can post photos of fashion or anything pertaining to the 18th century that you find sexy or just plain beautiful (art, places, literature, etc).
~Tell us what turns you on about the fashions of the Rococo period.
~If there is anyone who enjoys writing short fiction and erotica, and has anything dedicated to the 18th century, you are more than welcome to post it here.
~Do you sew, paint, sculpt, draw? Show us!
~Post about a film you saw set in the 18th century and/or certain scenes in it that you loved.
The Rules
:
(Updated 10/8/10)
~Moderated Membership. Requests to join are emailed to the moderator for approval.
~You must be 18 or over. Your profile must show your full birth date, or I will not accept you as a member of the community.
~Likewise, by looking at your profile and/or journal entries I should be able to determine weather or not you actually have a genuine interest in the 18th century and what

rococo_fetish
is about.
If your profile is empty, or your interests list only contains "art, books, music, puppies, kittens, corsets", it's very likely that you will be denied membership.
If I am able to read your journal and it actually has frequent posts about 18th century subject matter, then I'll add you.
If your journal is completely devoid of any topics relating to the above, I won't.
It's simple really. Someone who never expresses an interest in their own journal, will most likely never post about it in a community either (unless it's something they are somehow ashamed of, and rococo is nothing to be ashamed of ;-)
With that said, if your journal is set to "Friends Only" and you are very private about what info you share publicly on your profile, we understand. In cases such as these, along with your request to join please send us a quick message about your interest in our community and it's theme.
Long story short; we don't want a community of lurkers.
~On the subject of "Gothic" and/or "Lolita" style:
indeed, there are many examples within this trend inspired by 18th century fashion, though most of it reflects a more Victorian little girl look.
Here is the big "however"; much of the Lolita trend seems to be a very contrived sense of what was rococo. While I want to give folks a forum to post about how they incorporate rococo into their daily or club fashions, I don't want this group to become Gothic Lolita Central.
There is an epic amount of communities already dedicated to the Lolita trend, and they will be more than happy to let you post about your "super kawaii!" new frilly thing.
Let's keep the Lolita-inspired subjects to a minimum, or at least on track with 18th century/rococo themes.
~ Please folks, let's *not* discuss what body or figure types are more appropriate for the 18th century. There is no such thing as an ideal or overall popular body type in any era, because back then, just like today, beauty is in the eye of the beholder. Everyone appreciates body types differently. Some were plump, some were thin, it doesn't matter if one was more popular than the other, or weather or not it made childbirth easier.
*It matters not*
If I see even a single post or comment slamming someone (seamstress enthusiast, actor, costumer etc) for supposedly "having the wrong figure for the 18th century", the post will be deleted and you will get a warning. If you continue with the subject, I will be forced to bring out the ban hammer.
~**All posts must be in English**
If English is not your first language, please try to offer us a translation. This is mainly because English is more widely understood worldwide over say, Russian.
If you have something fantastic to show/tell us, we want to know what it's about ;-)
~All posts containing 'adult' subject matter (images, art, etc) must be made Members Only
~Only

rococo_fetish
members can post.
~Any large photos or artwork, or images with nudity MUST be placed behind a cut.
~Large posts, such as short stories etc. must be behind a cut as well.
~PLEASE KEEP IN MIND THIS GROUP IS NOT A PLACE TO POST PORN.
And by "Porn", I mean gratuitous erotic and/or modern images that have nothing to do with the theme of the group, etc.
(and you can always ask me first to approve an image)
~No flamewars, no snark, respect each other.
~If you are here to just harass people, post political rants, or other such nonsense, you will be deleted and blocked.
~While I'd like to facilitate networking and friendships, this is not a dating service.
Although, if it so happens you have a *mutual attraction with someone here, please take it elsewhere ;-)
(*meaning, do not come here ONLY to hook up with someone. If you like each other, we don't want to read your love notes nor endure the "I like you/I like you more" conversations. Thanks.)
~I think I covered all the basics, but any other ideas on rules are more than welcome.
XOXO!
Your moderators,

vienna_la_rouge

edel_vice

Connect
18th century
, 18th century fops,
affairs
,
american revolution
,
aristocracy
,
aristocrats
,
baroque
,
beauty marks
, beauty patches,
books
, boucher,
boudoirs
,
breeches
,
brocade
,
buckles
,
buttons
,
cake
,
candles
,
candy
,
carriages
,
champagne
, chemises,
corsets
, court gowns,
dance
,
dancing
,
dandies
,
dandy
,
diamonds
, dorante,
duels
,
fans
,
fashion
,
feathers
,
flintlock pistols
,
food
,
fops
,
fragonard
,
french revolution
,
frock coats
, garter ribbons,
garters
,
gloves
,
gossip
,
hats
,
highwaymen
,
horseback riding
,
jewelry
,
lace
, liaisons,
louis xvi
,
love letters
,
madame pompadour
,
marie antoinette
,
marquis de sade
,
masked balls
,
masks
, minuet, molier,
money
, mouches,
mozart
,
music
,
opera
, ostrich plumes,
palaces
,
panniers
,
paris
,
parties
,
pastries
,
patches
,
perfume
, pet en l'air, petite trianon,
philosophy
,
photography
,
pin curls
,
plays
,
powder
, promenade,
rapiers
,
rendezvous
,
riding boots
, robe a l'anglaise, robe á la française,
rococo
, rose bertin,
rouge
, royal court,
scandal
, secret passeges,
sex
,
shoes
,
silk
, silk mitts,
silk stockings
,
silk taffeta
, snuff boxes,
spending money
,
stays
,
stockings
,
swords
,
telemann
,
the hunt
,
theater
,
tricorns
,
velvet
,
versailles
,
vienna
,
vivaldi
, waist coats,
wigs
,
wine
, éclairs
Administrators

Members (7):

Subscribers (7):

Linking
To link to this user, copy this code:
On Dreamwidth:
Elsewhere: